Table of Contents
There are a few different ways to convert a WordPress post to PDF.
Use a WordPress plugin: There are several plugins available in the WordPress plugin repository that allow you to convert posts to PDF. One popular option is Post to Pdf WordPress to PDF Enhanced, which adds a "Download as PDF" button to your posts. To use this plugin, simply install it on your WordPress site, activate it, and configure the settings as desired.
With the Post to PDF plugin, you can easily add a "Download PDF" button to your posts and pages, allowing your visitors to download a PDF version of your content. You can also customize the button text and style to match your site's design.
The plugin uses the open-source library TCPDF to generate the PDF files, and you can customize various settings such as page orientation, font size, and margins. You can also exclude certain elements from the PDF, such as images or comments, if desired.
One limitation of the Post to PDF plugin is that it only works for individual posts and pages – it cannot generate PDFs for archives or categories. Additionally, some users have reported issues with the plugin not working as expected, although these issues appear to be relatively rare.
Overall, the Post to PDF plugin is a useful tool for WordPress site owners who want to offer their visitors an easy way to download a PDF version of their content.
Download plugin from wordpress.org : Post to Pdf
Configration of plugin
Single Post Page Setting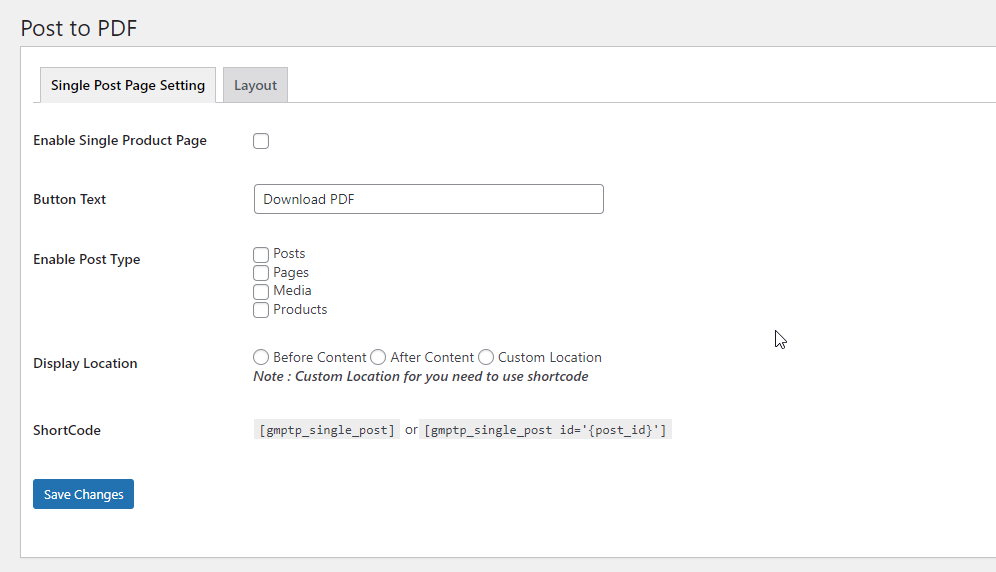 Enable Single Post Page : will be show download pdf button son single post page
Button Text : make button text with you desire
Enable Post Type : which post for you want to keep pdf download that you can (ex : if you have custom post type for that you want to enable that you can)
Display Location : there is 3 type of option availble 1) Before Content 2) Before Content 3) Custom Location
Shortcode : if you use custom shortcode than [gmptp_single_post] or [gmptp_single_post id='{post_id}']
Layout
Show/Hide Options : Title, Images, Description, Read More
Page Break After Product : if you want to break page after product that you can
Header Text : customize header text
Footer Text : customize footer text
Background Color : pdf background color choose
Color : pdf text color choose
Header/Footer Background Color : header/footer background color can be customize
Header/Footer Color: header/footer text color customize
if you want to add new feature than write on contact us